Dental Implants- The Bionic Teeth of Today
Missing a tooth, or even all of your teeth? Dental implants are the go-to option for the replacement of damaged or missing teeth. In fact, dental implants replace missing teeth so successfully, both functionally and cosmetically, that they are considered by many to be the most significant advance in dentistry during the last three decades.
The Implant Component

Dental implants consist of two separate components; the implant that fuses to the bone and the tooth shaped restoration that attaches to the implant. The implant itself is made from high-grade Type III titanium, the same material that has been used in medicine for fifty years or more to replace hips and knee joints. It is placed into the jawbone with scaffolding material that allows the metal to fuse to the bone in just two months if the site is healthy. Once it is fully integrated into the bone, a dental implant will not spontaneously separate from the body, even under the enormous pressures generated by biting and chewing. The expected life span of an fully-integrated implant is essentially unlimited if the surrounding bone and gum tissue is correctly maintained.
The Restoration Component

Once the implant site has healed, a crown-like restoration is secured to the implant. These restorations are generally fabricated from Titanium and Zirconia. Zirconia is a synthetic glass that is tooth-colored and very durable. Cubic Zirconia, the diamond substitute, is made from Zirconia. The implant crown looks and feels just like a tooth and is designed to be brushed and flossed at home just like a regular tooth. No one will know it is not a natural tooth.
The Bionic Effect

Bi·on·ic : adjective
having artificial body parts
having ordinary human powers increased by the aid of bionic devices
having normal biological capability or performance enhanced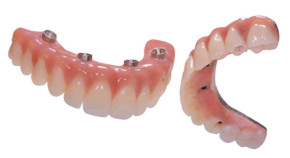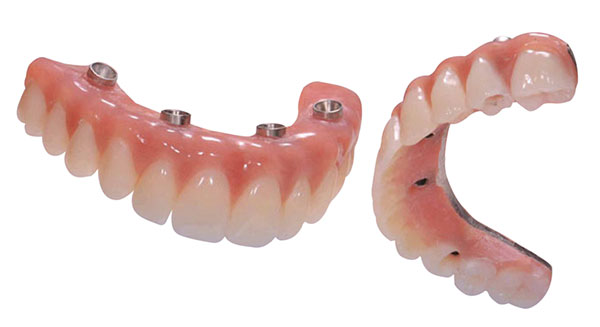 Dental Implants are used for many individual situations. They can replace a single missing tooth, several missing teeth, all the teeth in an upper or lower jaw and implants can secure other appliances, such as a removable denture or partial denture. In addition to restoring missing teeth, they are great solution in cases where teeth cannot be saved, such as uncontrolled gum (periodontal disease), badly damaged teeth, congenitally missing teeth and failed previous restorations. Because dental implants cannot break down or decay and because they so successfully restore both the normal functions and appearance of natural teeth, they can truly be considered Bionic Teeth.
Dr. Turner has devoted a great deal of time mastering the use of dental implants. He is always willing to provide a no-cost consultation to those wishing to know how to restore missing or damaged teeth with implant restorations. For further info, please contact Dr. Turner at (949) 770-3294.