Invisalign vs Braces: A Comparison of these Two Treatment Options

There is a lot of buzz about Invisalign, but some people may not understand the difference between Invisalign treatment and treatment using traditional braces. Let's look at these two types of orthodontic treatment and help you find the right option to get you the smile that you've always wanted.
Invisalign
Invisalign uses a series of clear trays that straighten teeth over time. The aligner trays are made of safe plastic and are fabricated from custom impressions using Invisalign's proprietary software program. The trays work to gradually move teeth into an ideal position. The trays are removed to eat and to clean the teeth, but are worn for the vast majority of the day. It takes, on average, between two and six months for treatment to be complete, depending on the movements that need to happen. A monthly check-up with the dentist is customary.  Invisalign a great option for most orthodontic cases. It is much faster, less expensive, far more cosmetic and way more comfortable than traditional braces. The only major disadvantage of Invisalign is the issue of compliance; Invisalign trays must be worn every day for approximately 22 hours or the treatment will not be predictable.
Traditional Braces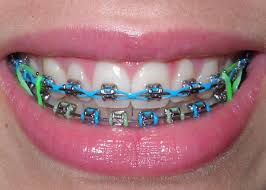 Braces are metal brackets that are bonded to the surface of the teeth. Wires and rubber bands help to move the teeth into position. Treatment time using traditional braces averages about two years. A monthly check-up with the dentist is customary. Braces will work for most orthodontic issues, but may not be ideal for people who play sports that result in physical contact, are not recommended for adult patients with any form of gum disease and are not considered cosmetic at all.  A major negative side affect of traditional braces is uncontrolled gum disease during treatment which is a result of the difficulty patients experience trying to clean around the brackets and wires.  Poor hygiene also can result in permanent white marks on the teeth after treatment is completed.  Compliance is generally not an issue with traditional braces.
Considering Invisalign over braces to help straighten your teeth? It may be time to contact an Invisalign Dentist in Aliso Viejo, like Dr. Turner, to discuss whether or not Invisalign is right for you.
At Turner Dental Care, we provide a wide range of dental services to meet your every need. Our family and cosmetic dental office is dedicated to providing the quality treatment and care you deserve. For more information about Invisalign, please request a free Invisalign consultation with Dr. Turner. You can contact us today at (949) 770-3294.